Company Profile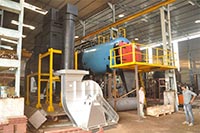 "SMS Engineering Services" is an engineering and marketing company of energy efficient equipments, which forms @ 30/40 % of operating cost for process industries. We have established our Manufacturing unit in 2012 as backward Integration for manufacturing Steam Boilers under IBR in accordance with IBR/ISO1950. The Manufacturing unit has been established as M/s Shree Laxmi Engineering Pvt. Ltd.

Our History
SMS Engineering Services was established as proprietorship company in June 2005 by Mr. Mahesh Juwatkar (DME + BE in Mechanical Engineering), who had then experience while working with one of the well known Boiler Manufacturers for 9 Years, and subsequent 2 years with an MNC in process heating Chemicals. The experience had been in the domain of Process Heating systems like Boilers, Thermal Oil Heaters, Hot Air Generators, and Hot Water Generators.

We provide a range of engineering solutions in the energy sector. Understanding the need of the day, all our solutions are innovative, energy-efficient, environment-friendly and easy to operate.

Team :
We have a team of professionals, which works hard to provide optimum satisfaction to our clients. With wide industrial experience and comprehensive knowledge in this sector, we have been able to exceed expectations of our customers. We commence and conclude placing the entire focus on our backbone: Our Valued
Customer. Visualizing their needs, creating solutions that optimally achieve their requirements, and moulding our operations to serve them with the highest scales of efficiency both before and after our product is sold and commissioned.

Vision Statement :
SMS Engineering Services is an engineering & manufacturing company having a vision to provide bold & capital Products and Service to our existing and expected customers. We Believe Value for the customer mean Best Quality at Reasonable Price.